The election of Donald Trump may be a political after-effect of the steep decline of mainline Protestantism in American culture, writes Lyman Stone in the web magazine Vox (July 14). Stone, a population economist, looks at average change at county-level Republican share of the vote per member of each denomination from 2012–2016. In other words, Stone estimates how the vote changed from Mitt Romney to Trump in the areas where each denomination's members tend to live. He finds that areas with a high density of mainline church members in 2010 saw a shift in the direction of Trump versus Romney's share in 2012. But areas with a high density of evangelical churches saw Trump underperform relative to Romney. A similar dynamic was in place for areas with a high density of Catholics. While the largest evangelical group, the Southern Baptists, does show some swing toward Trump, the shift away from Trump among other evangelicals "offsets that move." "In other words, Southern Baptists may not be typical of American evangelicals," Stone adds. He sees a more inconsistent and complex case than the usual narrative, with "evangelical- and Catholic-heavy areas supporting Trump less than they supported Romney, while mainline-heavy areas saw the opposite trend." Stone argues that the decline of mainline Protestant churches and the corresponding loss of a common moral language "to steer these voters away from demagogues on the left or the right," might leave them to "drift into more extreme political positions."
(Vox, https://www.vox.com/the-big-idea/2017/7/14/15959682/evangelical-mainline-voting-patterns-trump)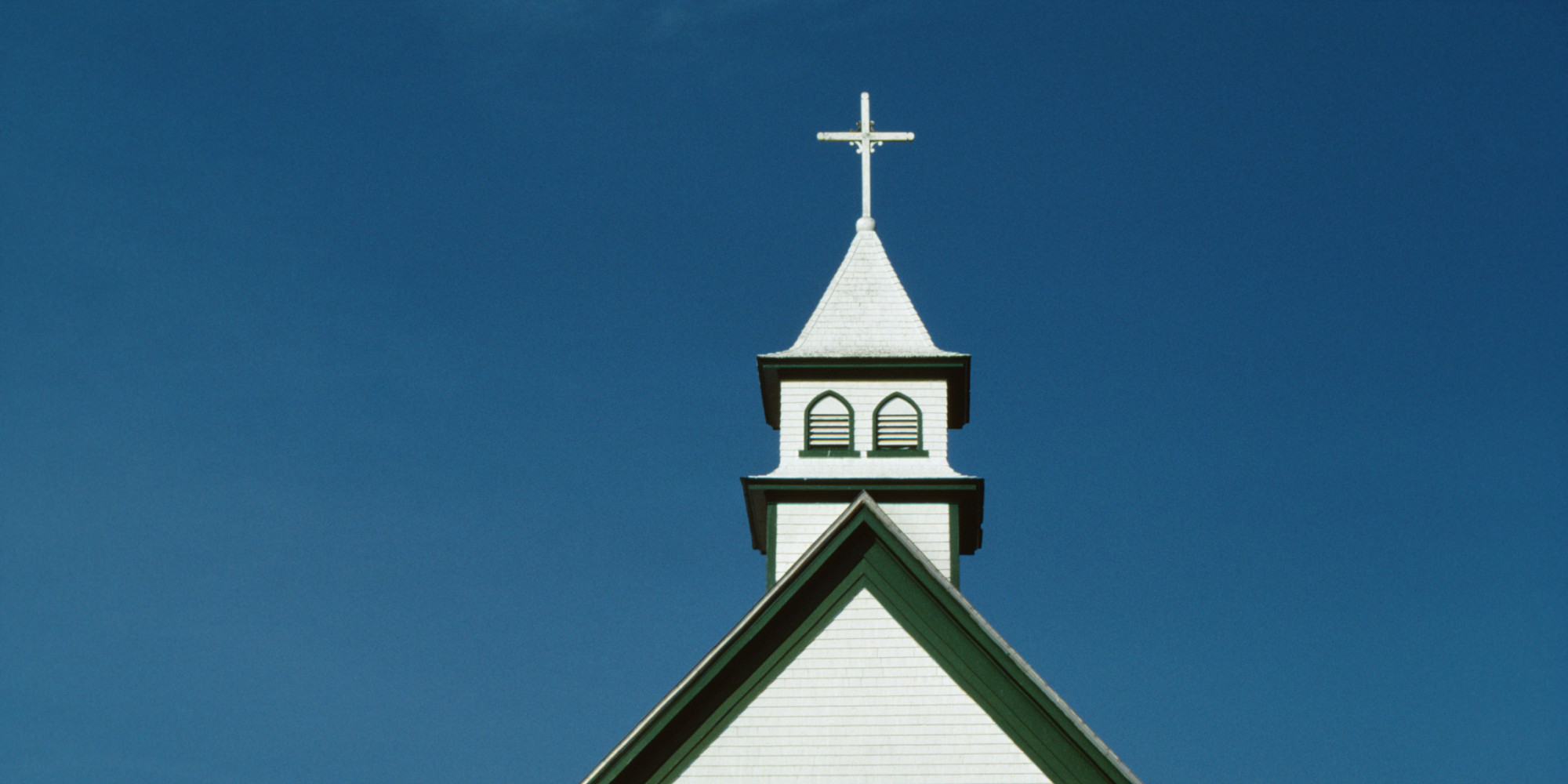 More Christian than Muslim refugees have entered the United States in the first months of the Trump administration, reversing a trend that had seen Muslims outnumber Christians in the final year of Barack Obama's presidency, according to analysis of data from the Pew Research Center. In the Pew FactTank blog (July 12), Phillip Connor and Jens Manuel Krogstad analyze U.S. State Department refugee data and find that from Donald Trump's first full day in office through the end of June, 9,598 Christian refugees entered the U.S., compared with 7,250 Muslim refugees. Christians made up half of all refugee arrivals in this period, compared with 38 percent who are Muslim. About 11 percent of these arrivals belong to other religions, while only one percent claim no religious affiliation. The religious composition of refugees varies on a monthly basis as well. In February, Trump's first full month in office, Muslims accounted for 50 percent of the 4,580 refugees who entered the U.S., and Christians made up 41 percent of newcomers. By June, Christians (at 57 percent) made up a larger share of refugees than Muslims (at 31 percent). This reversal contrasts with 2016, when a record number of Muslim refugees entered the U.S. and Muslims made up a higher share of refugees admitted than Christians (46 percent and 44 percent, respectively). But the change under the Trump administration is closer to the long-term pattern: between 2002 and 2016, Christians outnumbered Muslim refugees, with 2005, 2006, and 2016 being the exceptions.
(Pew FactTank, http://www.pewresearch.org/fact-tank/2017/07/12/in-first-months-of-trump-presidency-christians-account-for-growing-share-of-u-s-refugee-arrivals/)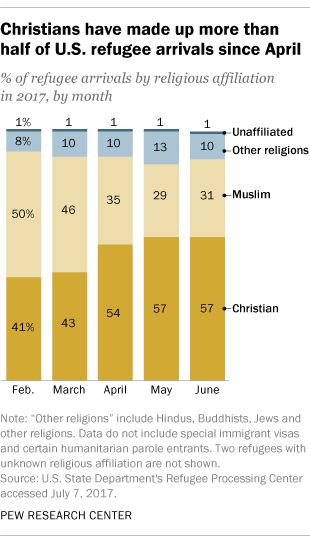 While Muslims feel dissatisfaction with the current state of the U.S. and say they have experienced discrimination, they are still optimistic about the American way of life according to a new survey from Pew Research Center. The survey compared Muslim attitudes from 2011 to 2017, finding considerable disquiet (68 percent) about the presidency of Donald Trump compared to that of Barack Obama, when the majority of Muslims believed the country was headed in the right direction and viewed the president as friendly toward them. Three-quarters of respondents say Trump is unfriendly toward Muslims in America, and 48 percent say they have experienced at least one incident of discrimination in the past 12 months. But the overwhelming majority say they are proud to be American, believe that hard work brings success, and are satisfied with their lives.
(The Pew report can be downloaded at http://www.pewforum.org/2017/07/26/findings-from-pew-research-centers-2017-survey-of-us-muslims/)