Covid-19 has impacted both individual religious practice and belief and congregational life, according to new surveys. One recent survey, conducted in late 2020 by Brandon Vaidyanathan of Catholic University, included 1,609 respondents rom Virginia, Maryland, Texas, and Washington, D.C. Although not a random sample, these respondents reflected the demographic traits found in a 2019 survey of religious leaders. Presenting his findings at the late- November meeting of the American Academy of Religion in San Diego, which RW attended, Vaidyanathan reported that those who were frequent attenders before the pandemic said they had maintained or even increased their attendance after congregations were reopened. A similar pattern was evident among those who said they prayed frequently before the pandemic—little change in 2020. He said the strongest relationship the survey showed was between a decrease in the perceived importance of religion and an increase in mental health problems. More than measures on attendance and prayer, it was the perceived importance of religion that mediated the reported change in mental health, according to Vaidyanathan.As part of the new ongoing Hartford Institute for Religious Research study on Covid, another survey was presented in this session on the impact of the pandemic on congregational safety nets and social services. Based on a sample of 2,000 respondents (mostly congregational leaders or representatives) from 38 denominations, the study found that 70 percent agreed or strongly agreed that they engaged in social service programs. While 15 percent of the congregations did discontinue their social services during the pandemic, one-third said their level of assistance had remained stable, if not increased. Ninety percent of the congregations stopped meeting during the pandemic, while one-quarter maintained their level of volunteers and nine percent reported new volunteer roles being created. As far as donations were concerned, 40 percent said they saw an increase in giving and one-third said their financial health was about the same as it was before the pandemic. The study did not find that denominational traditions had significant effects on the finances of congregational social services during the pandemic; rather, it was the size of the congregation that had the strongest effect, with very small and small churches reporting lower increases in finances. Racial and ethnic factors did not have a significant role in the pandemic's effect on congregational social services, although it was found that only 55 percent of white congregations offered social services, compared to 84 percent of Latino and 67 percent of Asian congregations.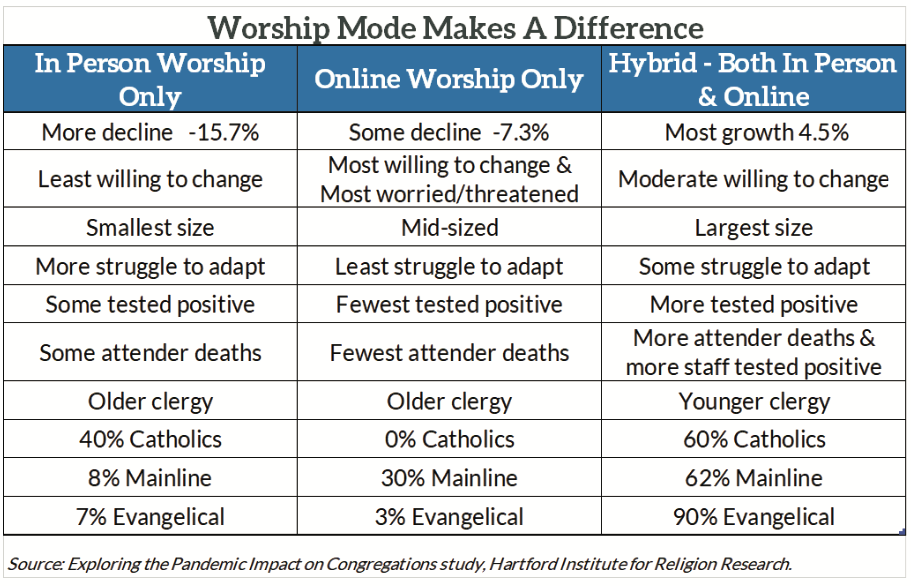 As for worship attendance, the survey found that 93 percent of congregations had resumed worship by 2021, but mostly in some hybrid form. As might be expected, the decline in worship attendance from 2019 was greater than previous years, standing at 12 percent. By contrast, the pre-pandemic 2020 Faith Communities Today survey had found a five-year median attendance decline of 7 percent for all U.S. congregations. In this pattern of decline it mattered how worship was conducted: the 15 percent of congregations who reported only meeting in person (smaller congregations with older clergy but also almost half of Orthodox and Catholic churches) also reported the steepest decline, at 15.7 percent. For the 5 percent of congregations who remained completely online, the decline was 7.3 percent. These are the congregations most concerned about the pandemic and represented 30 percent of mainline churches, but very few evangelical and no Catholic or Orthodox ones. For the 80 percent of congregations maintaining a hybrid mode of worship, there was an overall growth of 4.5 percent in attendance. These congregations also reported the highest rates of mortality from the virus, and are represented by 90 percent of all evangelical churches, 60 percent of Catholic and Orthodox parishes, and 62 percent of mainline congregations.
(The Hartford Institute report on Covid and congregations can be downloaded from: https:// www.covidreligionresearch.org)
Each generation tends to be less religious than the previous one in Switzerland, similarly to what can be seen in other Western countries, and one should not expect people to become more religious as they grow older, according to a recent study. Combining data from quantitative research conducted over some 30 years, Jörg Stolz and Jeremy Senn (University of Lausanne), in a paper published in German and French as part of the series Social Change in Switzerland (Issue 27, November), show that religious belonging in each generation tends to decline more rapidly than in the previous ones, and that levels of attendance and private religious practice are less than those of former generations. The younger an age cohort is, the slightly less religious it is than the previous one.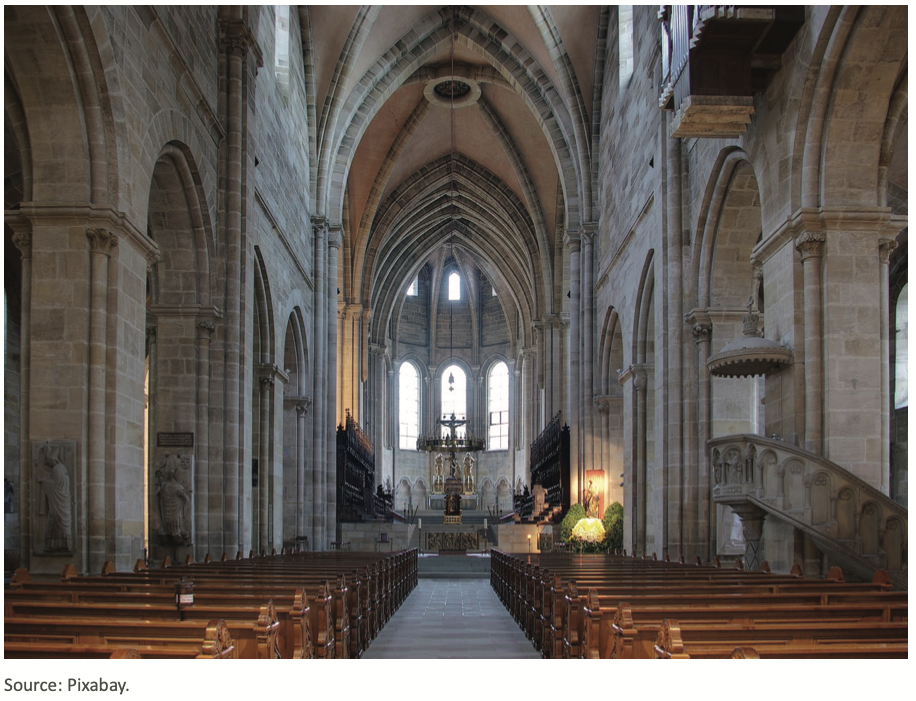 The authors claim that no switch from Christian religion to holistic spirituality can be observed, in contrast with common assumptions. Except for the practice of yoga, which has been rising over the past decade, several other practices or beliefs associated with holistic spiritual orientations have either remained stable or declined. But this pattern does not hold for all generations, with holistic spirituality being most strongly represented among people born between 1951 and 1970 (with the exception again of yoga and its rising spread among people born since 1981). Research data seems to confirm the impact of secularizing factors on religious socialization. There is also a decline in individual religiosity and religious affiliation over time. Neither believing nor belonging is on the increase, with time-demanding religious behavior (i.e., attendance) being given up first. One can thus speak of "generations with decreasing faith."
A similar failure of transmission is taking place in eastern and western Germany, according to a paper Stolz, together with Oliver Lipps and David Voas, presented at the recent meeting of the Society for the Scientific Study of Religion in Portland, Ore., which RW attended. Using data from the German Socio-Economic Panel, the researchers looked at children's and parents' levels of religiosity over time. They found that a failure of religious socialization created the same pattern of cohort replacement evident in other parts of Europe, with each generation becoming less religious over time. They unexpectedly found that religious transmission took place to a greater extent in highly secularized east Germany than in west Germany, most likely due to a minority of very religious parents being more able to pass on their faith there. They found that those in stricter religions were better able to pass on their faith that those in more lax ones (such as evangelicals as compared to mainline Protestant and Catholic families). But Stolz, Lipps, and Voas were less certain about the factors driving this cohort replacement, speculating that it may be due to the social context where religion is not seen as important more than to individual attributes.
(The paper on the Swiss research is a summary of a longer article to be published in 2022. The paper can be downloaded in German or in French from the website https:// www.socialchangeswitzerland.ch)