Pastoral care in churches has gradually shifted from specific religious teachings to a more ecumenical spirituality and from concerns about human nature and morality to an emphasis on personal narratives, according to a study in the Journal for the Scientific Study of Religion (online in February). John Bernau of Emory University studied more than 4,000 articles from 71 years (1947–2018) of issues of the Journal of Pastoral Care and Counseling, the oldest and most ecumenical and interfaith (including Jewish religious) journal in the field, with a readership among academics, chaplains, clergy, counselors, and psychologists. He found that, reflecting declining religious authority since the mid-twentieth century, there was a decline in content dealing with the universal basis of human nature, replaced by an individualistic emphasis on personal narrative and experience. "Today, heightened attention to religious pluralism and cultural diversity has narrowed pastoral discussions to focus on individual experience and the construction of personal meaning," Bernau noted. There was also a decrease in explicit Christian language and shift to quasi-secular spiritual terms, such as "love" "heart," and "breath." More unexpectedly, a decline was observed in discussions about the related professions of psychology and psychiatry, which could mean greater independence and boundary maintenance between these professions and religious professionals. However, Bernau noted that chaplains now regularly address evidence-based approaches to pastoral care.
(Journal for the Scientific Study of Religion, https://onlinelibrary.wiley.com/journal/14685906)

A new Pew study finds that black Americans attend church and pray more often than the overall U.S. population. The survey found that 90 percent of black adults are likely to believe in God or a higher power compared with 72 percent of the U.S. general population, and that they are also more likely to report that they attend religious services regularly than is the broader population. In a first-of-its-kind study of African Americans, the survey found 54 percent of Blacks to say they prayed at least a few times a month, compared to 28 percent of the general population. As for religious affiliation, 66 percent of black Americans are Protestant while 6 percent are Catholic and 3 percent identify with other Christian faiths; 3 percent belong to other non-Christian faiths; and 21 percent don't identify with any religion. Of the churches they attend, 60 percent say they attend religious services at places where most or all of the other attendees, as well clergy, are also black. In contrast, 25 percent attend places with multiracial congregations, and 13 percent belong to predominantly white or other race congregations. Three-quarters agree that black churches play "some" role in advancing racial equality, although 33 percent say that black congregations should preserve a more traditional character.
(The Pew study can be downloaded at: https://www.pewforum.org/2021/02/16/faith-amongblack-americans/)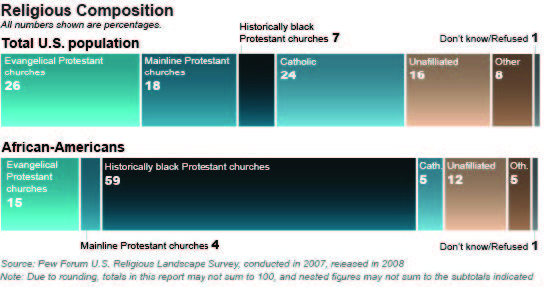 More than a quarter of white evangelical Protestants hold to QAnon conspiracy theories, according to a recent survey by the American Enterprise Institute (February 1). The survey reported that 29 percent of Republicans and 27 percent of white evangelicals agree that the widely debunked QAnon conspiracy theory that Donald Trump is secretly battling a cabal of pedophile Democrats is completely or mostly true. About half of white evangelicals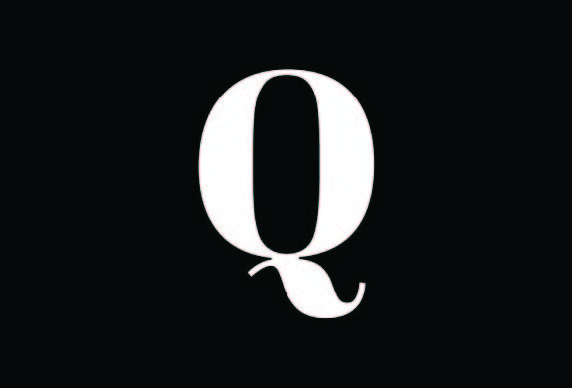 express support for the claim that Antifa was responsible for the recent siege at the U.S. Capitol. QAnon has found a following in other faiths, though to a lesser extent: 15 percent of white mainline Protestants, 18 percent of white Catholics, 12 percent of non-Christians, 11 percent of Hispanic Catholics, and 7 percent of Black Protestants say they believe it. The survey also found that large segments of each faith "weren't sure" whether the theory was true, ranging from 37 percent of non-Christians to 50 percent of Hispanic Catholics".
(The report can be downloaded at: https://www.americansurveycenter.org/research/after-the-ballots-arecounted-conspiracies-politicalviolence-and-americanexceptionalism/)

The Protestant/evangelical movement in Mexico grew from 7.5 percent in 2010 to 11.2 percent last year, according to the country's 2020 census. Contradicting the notion that Mexico has been an exception to the evangelical growth that has challenged Catholic dominance in much of Latin America, the new census figures also suggest that the country is seeing an accelerating drop in people claiming to be Catholic. Christianity Today magazine (February 8) reports that it took half a century—from 1950 to 2000—for the proportion of Catholics in Mexico to decrease from 98 percent to 88 percent. But only two decades later, that figure dropped another 10 points to 77.7 percent. As Protestantism has risen in the still majority-Catholic country, so has the proportion of non-affiliated Mexicans. The census shows that the proportion of those with no religion rose from 4.7 percent to 8.1 percent, while an additional 2.5 percent of Mexicans consider themselves believers but don't have a religious affiliation.