Ireland does not look like the country that one would spontaneously associate with Hinduism. But the number of Hindus had grown to more than 14,000 by the time of the 2016 census, and representatives of the Hindu community estimate that the number is now somewhere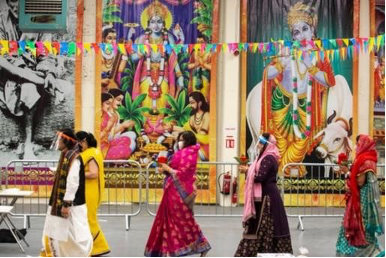 between 20,000 and 25,000 due to immigration. On August 22, what is described by its promoters as "Ireland's first official Hindu Temple" opened its doors after two decades of efforts, despite adverse circumstances created by COVID-19 (limited number of visitors allowed). Nevertheless, the new temple expects thousands of Hindus to visit until the end of the year (Irish Times, August 22, 2020). Hosting a wide range of deities, the temple is placed under the direction of the Vedic Hindu Cultural Centre Ireland (VHCCI), which is the largest Hindu organization in the country. There have actually already been smaller places of worship in the country, linked to specific Hindu traditions, such as a Vinayaka temple (since 2003) and an ISKCON temple (as early as 1978).
In a chapter on Hinduism in the Republic of Ireland of the newly-published, 2-volumes Handbook of Hinduism in Europe (Brill), authors S. Harikrishnan and Sweta Chakraborty report that "Indian community and religious organizations began to be set up in the Republic in the 1970s." On average, most Hindus in Ireland seem to have been relatively successful in maintaining their religious practices and passing the faith to the next generation, with the experience of being in a different environment heightening "yearnings to hold onto identities that help one relate with the 'home' land." Harikrishnan and Chakraborty report that not all Hindu believers visit temples, since some prefer to practice in front of their own domestic shrines. By necessity, religious practices come to differ in several ways from what they would be in India. The growing number of Hindus in the country may also bring requests for accommodation to specific needs. In January, a prominent, US-based Hindu activist asked the Dublin City Council to develop an area where Hindus living in Ireland could scatter the cremated remains of their dead (Irish Examiner, January 10). The request was backed by the VHCCI, although its leaders made clear that they would not press the Council on that issue. There are already several crematoriums where Hindu priests can perform the last rites for the deceased, write Harikrishnan and Chakraborty.
(VHCCI website, https://hindu.ie)