The restrictions and penalties against homosexuality in Nigerian culture is often reflected in the preaching and teaching of the burgeoning Pentecostal churches in that country, but a new breed of congregations are providing a refuge from these strict attitudes, even if they don't directly challenge the anti-gay laws or embrace LGBTQ identities, writes Nelson C.J., in The New York Times (January 26, 2020). The writer recounts visiting more progressive Pentecostal churches that have opened since the early 2000s led by young Nigerians that have "risen up to fill the space conservative churches have left unexplored. Tapping into a generation's concerns about mental health, relationships, identity, sexuality, and finances, these organizations ostensibly offer their congregants a friendly space to unpack whatever they might be dealing with alongside the teachings of God." Nelson focuses on The Tribe Lagos Church, which began in 2017 and has gained a steady following, serving more than 150 members in Lagos and a smaller branch in Nigeria's capital Abuja, but other youth-oriented groups include Harvesters.
The Tribe was started by a pastor conflicted about the conservative leanings within Christianity "that dominated the country's culture and laws." The article adds that many LGBTQ people are drawn to such nontraditional places of worship, claiming they find a "more open-minded kind of love and acceptance." Yet the author adds that these churches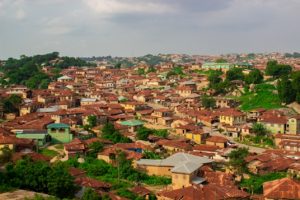 are not gay-affirming, even if they avoid the negative and politicized focus on homosexuality in society. Their conversations about homosexuality have often played out "via correctional undertones and are sometimes avoided altogether." When asked about the Tribe's stance on L.G.B.T.Q. issues, the pastor said that while the church will not exclude gays or pray against them, he encourages his congregants to be open to the possibility to becoming straight when they encounter teachings from the Bible. The writer concludes that while these churches provide "safer spaces" for young Nigerians, they are limited in embracing L.G.B.T.Q issues and identities.