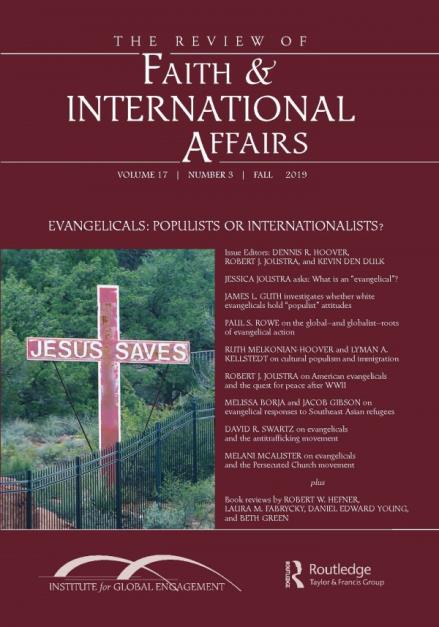 ◼ The rise of the narrative of persecuted Christians around the world not only encourages American evangelicals to help victims abroad, but is also linked to a process of their seeing themselves as victims, part of a global community under attack, writes Melani McAlister (George Washington University) in an issue of The Review of Faith and International Affairs (Fall) devoted to the topic, "Evangelicals: Populists or Internationalists?" The narrative continues a long Christian tradition—both in Protestant and Catholic cultures—of paying attention to martyrs and suffering Christians. After World War II, attention was drawn to a specific, new kind of persecution, that of the "suffering church" under communism in China and the Soviet Union. But the current discourse started after the end of the Cold War, McAlister writes, with a vision to bring the gospel to what was presented as the least evangelized part of the world—the "10/40 Window," that part of the world between 10 and 40 degrees north of the equator, where Christians were a minority surrounded by Hindus, Buddhists or Muslims. "In the 1990s, the persecuted Christians movement was energized by, and played a key role in supporting, the International Religious Freedom Act (IRFA), which established a set of instruments that paralleled human rights provisions."
The discourse on persecuted Christians presents Christianity as the most persecuted religion and does not always pay the same attention to the persecution endured by adherents of other religious faiths. There are often links to individuals or groups with an anti-Muslim agenda, eager to show Muslims as oppressors. Even in those areas where there are various ethnic, political and social factors leading to the suffering of Christians in a Muslim environment, the focus will frequently be on "Muslim persecution of Christians," according to McAlister. The author concludes that the persecuted Christians movement shows "how international awareness and connections can coexist with populist orientations of besiegement and hostility," allowing American Christians to see themselves as part of a global community of victims (and one might add that this now goes beyond the shores of North America, with the theme present in evangelical congregations around the Western world). The issue also includes articles on whether evangelicals are populists (based on an analysis of the 2016 U.S. elections), on the global roots of evangelical action, on evangelicalism and immigration, and more historical topics. For more information on this issue, visit: https://www.tandfonline.com/toc/rfia20/current
◼ The growing population of Latino Jews in the U.S. and the way they negotiate their ethno-religious identity in an environment of American pluralism is the subject of sociologist Laura Limonic's new book Kugel and Frijoles: Latino Jews in the United States (Wayne State University Press, $34.99). Limonic based her study on interviews and participant-observation in the Boston, Miami, and New York City areas, as well as in Argentina. She estimates that there are between 148,000 and 225,800 Jews of Latino background in the U.S., with the highest concentrations in South Florida. While it might be assumed that Latino Jews would emphasize their Jewish identities, Limonic finds that they more often maintain an "in-between" status, not feeling particularly at home among American Jews or Hispanic-Americans. The author finds that, like other immigrants, Latino Jews may choose to emphasize one part of their identity at different times for strategic reasons. More recent immigrants may emphasize their Latino identity for the purpose of affirmative action and other diversity programs, while others may stress their Jewish ethnicity-religion to assimilate into the white American majority and avoid the racial stigmatization that Hispanics face.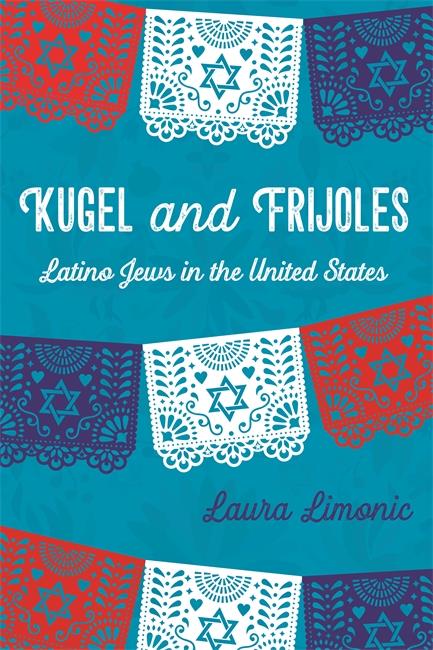 In the sections on religion, Limonic reports that Latino Jews are not particularly religious or attached to synagogues in their home countries, although they do rely heavily on Jewish cultural institutions for support and social ties in these mostly Christian countries. In coming to America, they tend to differ from American Jews in their closer connection and involvement in institutions such as Jewish day schools. But on other measures, such as loyalty to Israel and their political affiliation, Latino Jews tend to assimilate to the American Jewish levels of support and political preferences. Latino Jews, however, do become more religiously involved in the U.S., even if they might object to the more non-traditional expressions of Judaism in America, such as mixed-gender seating and the presence of women rabbis in synagogues (in Latin American countries, the predominant movements in Judaism are Orthodox and Conservative, with the latter more traditional than Conservative Judaism in the U.S.). There has also been an increased rate of synagogue membership among second-generation Latino Jews (almost triple the percentage of first-generation Latino Jews). Such religious involvement has influenced the organizational and social culture of the synagogues they attend. In the Latino Jewish bastion of South Florida, a number of synagogues cater to this group, with some individuals splitting their time and resources between American and Latino congregations. Interestingly, Limonic finds that the Hasidic Chabad movement is more likely to organize around and attract "pan-ethnic" Latinos (from different Latino nations), with New York's burgeoning Jewish Latin Center being a notable example.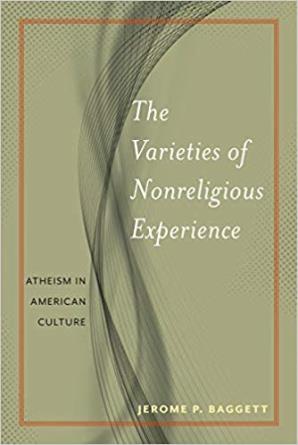 ◼ The Varieties of Nonreligious Experience (New York University Press, $30), by Jerome P. Baggett, adds to the burgeoning literature on secularism and non-religion by examining the life stories and attitudes of American atheists. The book, based on over 500 interviews, follows in the tracks of recent research showing the growth of atheist organizations and activism (linked to the belief that atheism will increase along with the non-affiliation trend) as well as the more general finding that many of the negative stereotypes about atheists, as being less compassionate or concerned with morality and ethics, or hostile toward believers, don't hold up very well. The book seeks to act as an exercise in "cross-cultural" bridging between atheists and believers, showing that both sides have significant misconceptions of the other. For all their diversity, Baggett finds that there are several components to an atheist identity, most notably the idea that religion and science are inevitably in conflict and that religious faith is regressive and backward-looking. Baggett portrays his atheist interviewees as uniquely moral, with a high degree of intellectual integrity, but challenges them and the wider atheist movement to be just as critical of society and its institutions as they are of conventional religion.
◼ American Parishes: Remaking Local Catholicism (Fordham University Press, $30), edited by Gary Adler Jr., Tricia C. Bruce, and Brian Starks, provides a close-up look at this vital middle ground of American Catholic life that has received surprisingly little sociological scrutiny compared with individual Catholic practices and attitudes and more macro patterns in global Catholicism. In the introduction, the editors argue that too much attention to statistics and wider trends in Catholicism has brushed over the unique dynamics and structural qualities of parish life, which, unlike in Protestant congregations, mediate between local and national or global Catholic life and cultures. The differences between Catholic parishes and Protestant congregations, which are often the main subject in the burgeoning field of "congregational studies," are spelled out in the contribution by Nancy Ammerman. Using her religious ecology model, she writes that parishes are no longer bound by official church geography (which required Catholics to attend the parishes of their residential neighborhoods) and are being complicated by the growth of church mergers, closings, priestly shortages, and the new pluralism which requires that more attention be given to cultivating local resources in an environment where choice becomes a significant factor in parish participation and belonging.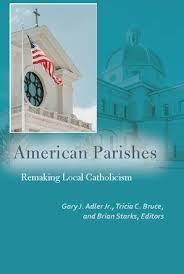 That accent on pluralism and choice is evident in several of the chapters, most notably Kathleen Garces-Foley's contribution on how parishes can serve as both homes for various Catholic identities and "hubs" for far-flung networks of active Catholics. The latter reality is clear from the way that especially committed Catholic young adults (from both conservative and progressive camps) often navigate and piece together their own kind of Catholic life based on a menu of local parishes, Catholic university organizations, and diocese-wide activities. Other noteworthy chapters include an overview of parish trends by Gary Adler, where he finds parishes growing older and more Hispanic. They are also growing more theologically conservative and more political, yet are less charismatic in worship. A concluding chapter features a provocative interview with sociologist John A. Coleman, who turns his eye to his own parish.