The most recent data on Generation Z shows a higher rate of non-affiliation and secularism compared to Millennials and preceding generations, writes Ryan Burge in the blog Religion in Public (July 15). Burge analyzes the 2019 and 2020 waves of the Cooperative Election Study and finds that those belonging to Generation Z (born in 1996 or later) have secularized in significant ways as they have gotten older and moved into adulthood. In 2016, about 39 percent of the generation were "nones," while today it is up to 44.4 percent. Seven percent now identify as atheists, six percent as agnostics, and another 31 percent say they are "nothing in particular." The percentage identifying as Protestant or Catholic went down to 35 percent in 2020 from 41 percent in 2016. Broken down by racial groups, Burge finds that a substantial 47 percent of African Americans in this generation are now nones (even though they are more hesitant to embrace an atheist or agnostic identity), while Latinos are the only group where Christians outnumber nones. As previous surveys have shown, politically liberal members of Generation Z are much more likely to be non-affiliated and atheist and agnostic, though Burge notes that the rate of nones among conservatives has also climbed, increasing from 20 to 29 percent.
(Religion in Public, https://religioninpublic.blog/2021/07/19/generation-z-and-religion-the-mostrecent-data/)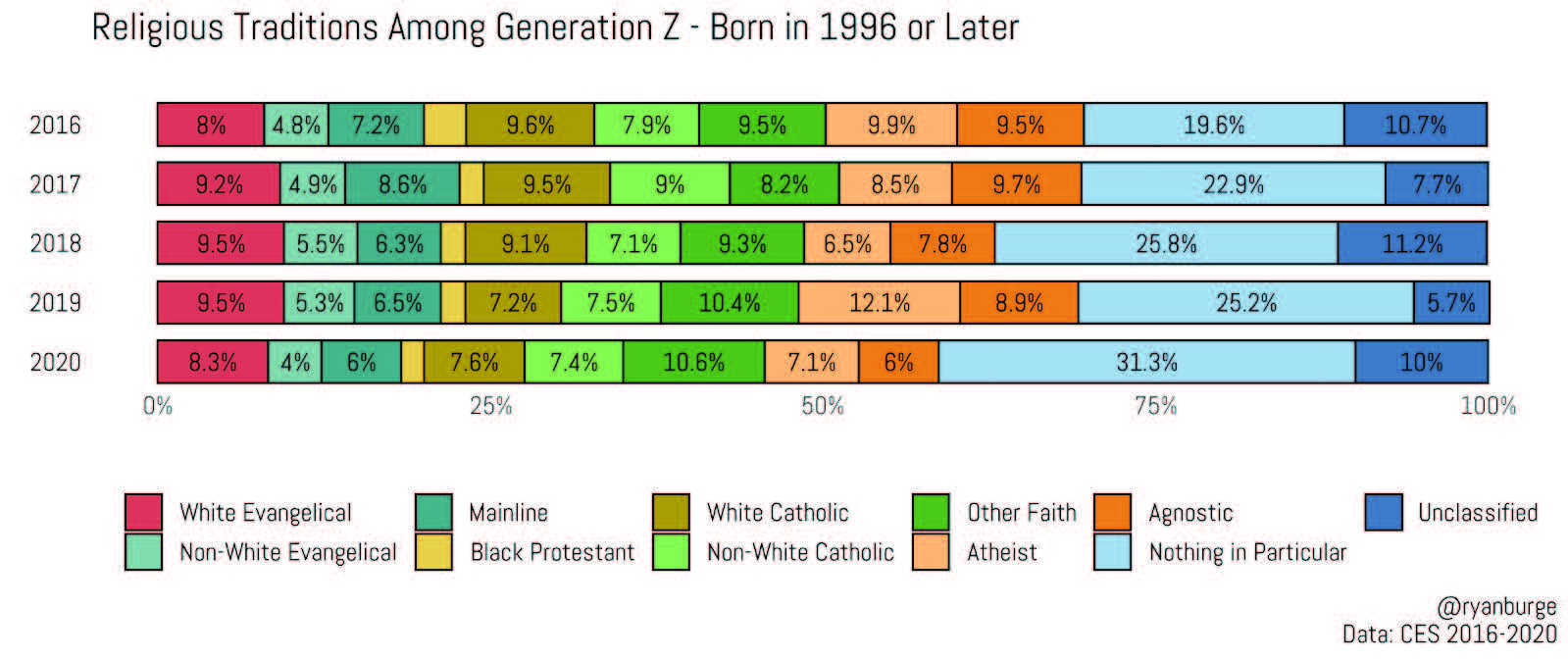 A new "religious census" of the U.S. finds evangelical decline and unexpected but small growth among mainline Protestants. In the absence of census-style data (as the U.S. Census does not ask questions on religion), researchers at the Public Religion Research Institute (PRRI) conducted a study over the course of seven years, asking nearly 500,000 respondents not just about religion, but also age, race and ethnicity, geography, and political preference. The study found a "mainline rebound" that drove a slight increase in white Christians between 2018 and  2020. Since 2007, white mainline (non-evangelical) Protestants have declined from 19 percent of the population to a low of 13 percent in 2016, but the last three years have seen small but steady increases, up to 16 percent in 2020. As white evangelical numbers continued to decline, the percentage of religiously unaffiliated Americans went up, and there appeared to be an association between the two trends with ex-evangelicals moving to the "none" category. Over the last three. years, however, the unaffiliated category has stabilized while the white evangelical exodus has continued. What was once a supermajority of white Christians—with more than 80 percent of Americans identifying as such in 1976, and two-thirds in 1996—has now plateaued at about 44 percent, according to the new survey.
(The PRRI's study can be downloaded here: https://www.prri.org/research/2020-census-ofamerican-religion/)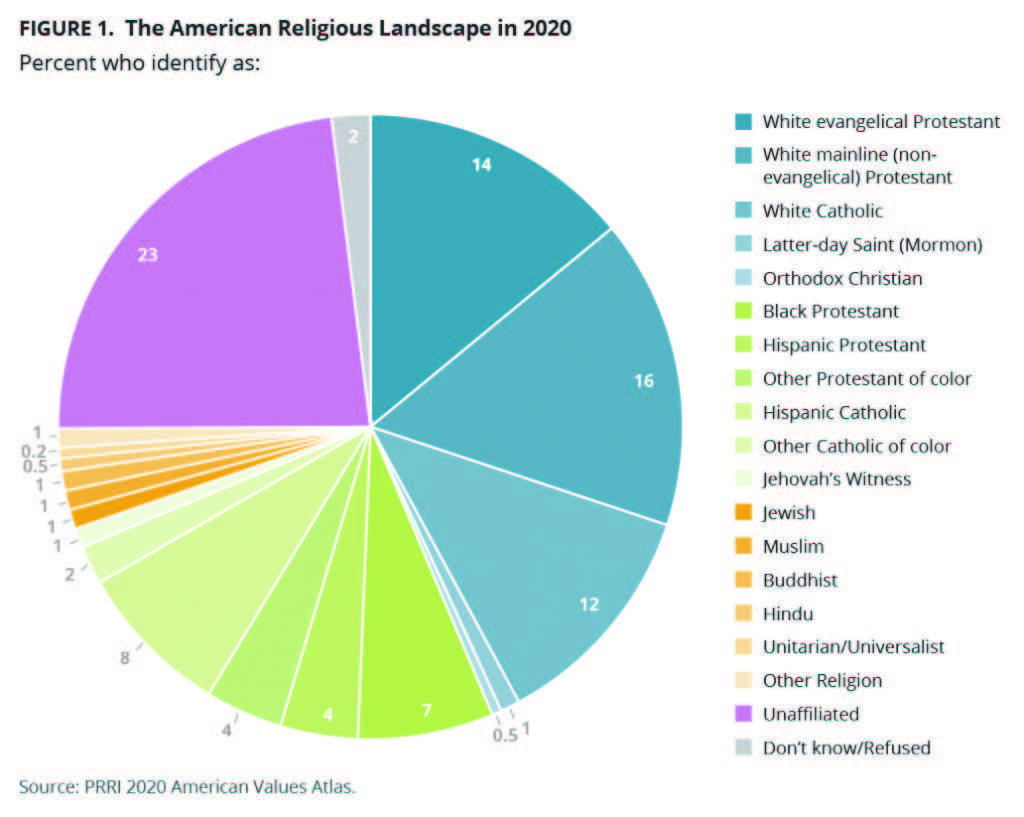 The debate about the effects of the pandemic on religious beliefs and practices will continue for several years, but at least one study among committed believers in Britain finds that Covid-19 had a positive impact on their faith, reflecting findings in the U.S. Writing in the London-based Church Times (July 2), Leslie Francis and Andrew Village look at how the first few months of the pandemic (up to July 2020) affected believers, drawing on data provided by 3,678 laypeople identifying as Catholic and Anglican who had participated in online services. The data shows that more participants, 57 percent, reported enhanced faith compared with only seven percent who reported a deterioration in personal faith. Fifty percent reported enhanced prayerfulness compared with 12 percent who reported less prayerfulness, while 43 percent said they felt closer to God compared with 10 percent who felt more distant. Francis and Village found that Catholics were more likely to report these positive effects than Anglicans. How people engaged in online services also had some impact on faith enhancement: those who took a more active part in preparing for online services, such as by lighting candles and typing in prayer requests, reported enhanced faith.
(Church Times, https://www.churchtimes.co.uk)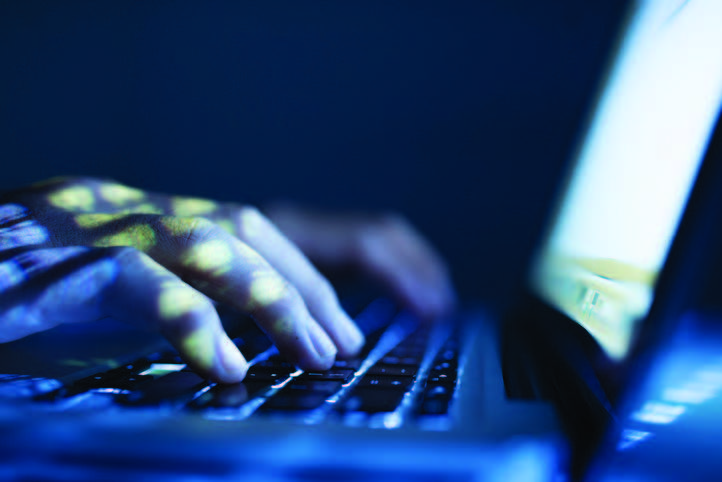 Religious teaching was a key factor in the high rate of Covid-19 infections among the ultra-Orthodox community in Israel, according to a study published in the journal Contemporary Jewry (online July 20). While observers have cited the ultra-Orthodox population's living patterns and segregation from the rest of society in accounting for its high rate of infection (with 40 percent of all cases in Israel coming from the ultra-Orthodox sector), it has not been clear whether cultural or faith factors have been more decisive in this health crisis. The study, conducted by Sara Zalcberg and Sima Zalcberg Block, is based on in-depth interviews with 25 ultra-Orthodox individuals who either contracted the disease or had contact with a  Covid-19 patient. The study acknowledges the structural factors involved in the spread of the virus in the community, such as housing and population density, lack of access to public health information, and close contact between members in frequent gatherings, as well as the ideological factors, such as the belief that the Ministry of Health discriminates against the community. But the authors argue that even these factors are related to religious beliefs and practices. The interviewees frequently related these lifestyle practices to the priority they gave to religious authority over public health edicts. The authors note, however, that the interviewees showed a diversity of views on the virus's spread and on the Ministry of Health's efforts to stem the outbreaks, suggesting that there is no unified front against state authorities being put up by the ultra-Orthodox community.
(Contemporary Jewry, https://www.springer.com/journal/12397)