A community's greater degree of social capital, as generated by congregations and other voluntary organizations, is likely to lessen the severity of the coronavirus as well as help in recovery from the crisis, according to research by Christos Andreas Makridis. Writing in the online newsletter Public Discourse (May 13), Makridis finds that greater social capital, a term used to describe the degree of connections and level of trust between people, leads to greater resilience from the pandemic and its aftermath since it provides networks of support. It seems like a non-controversial finding, but some researchers have found that greater social capital, such as demonstrated by the close interactions among soccer fans at a game in Bergamo, Italy, was a "superspreader" event that led to the significant outbreak of the virus in that country. He looked at data on over 2,700 counties, linking their number of and weekly growth of infections with their social capital (as defined by such Joint Economic Committee measures as family unity, social support, collective efficacy, and philanthropic health).
Makridis finds that the positive effects of social capital outweigh any negative effects of social interaction spreading the virus, particularly local community involvement and compassion for neighbors "could lead people to socially distance, returning to greater levels of social interaction once the pandemic is over and a vaccine is out." He adds that even when controlling for differing levels of population density and poverty rates within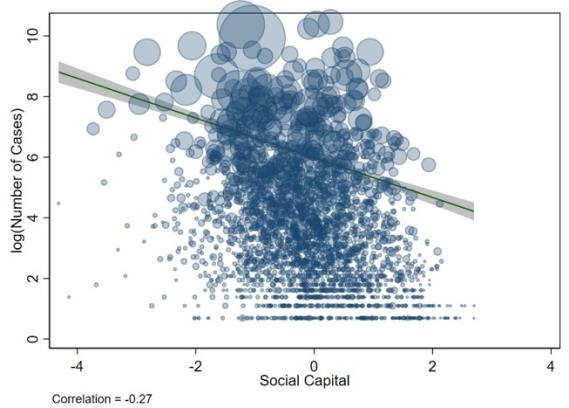 counties, the results remain robust. In seeking to explain the mechanisms and policies that play a mediating role in social capital, Makridis focuses on the role of religious institutions "in helping individuals stay connected and meet real needs, including even handing out groceries and holding drive-in services." He cites research he conducted (with ISR director Byron Johnson) that shows that Christians who were active in their churches maintained greater well-being during the 2008 financial crisis and its aftermath than inactive Christians.
(Public Discourse, www.thepublicdiscourse.com/2020/05/63479/)
Graph from How Social Capital Helps Communities Weather the COVID-19 Storm, Christos Andres Makridis

 A new poll found that 31 percent of Americans who believe in God feel strongly that the coronavirus is a sign of God telling humanity to change, with the same number believing this to "some extent." The poll, conducted by the University of Chicago Divinity School and The Associated Press-NORC Center for Public Affairs Research, found that evangelical Protestants are more likely than others to believe this about the pandemic strongly (43 percent), compared with 28 percent of Catholics and mainline Protestants. The question was asked of all Americans who said they believe in God, without specifying a specific faith (though the sample sizes of Muslims and Jews were too small to be included).
African-Americans were more likely than those of other racial backgrounds to say they feel the virus is a sign that God wants humanity to change, regardless of education, income or gender. Forty-seven percent say they feel that strongly, compared with 37 percent of Latino and 27 percent of white Americans. But the virus did not have large impact on Americans' belief in God, with two percent saying they believe in God today, but did not before. Fewer than one percent say they do not believe in God today but did before. Meanwhile, the poll asked respondents about opening up congregations and found that Republicans are more likely than Democrats to say prohibiting in-person services during the coronavirus outbreak violates religious freedom, (49 percent to 21 percent). A majority of Democrats say they think in-person religious services should not be allowed at all during the pandemic, compared with 34 percent of Republicans. Most of the other Republicans say they should be allowed with restrictions, while 15 percent think they should be permitted without restrictions.
(The study can be downloaded here: http://www.apnorc.org/projects/Pages/Religious-Practice-in-the-Time-of-Coronavirus.aspx)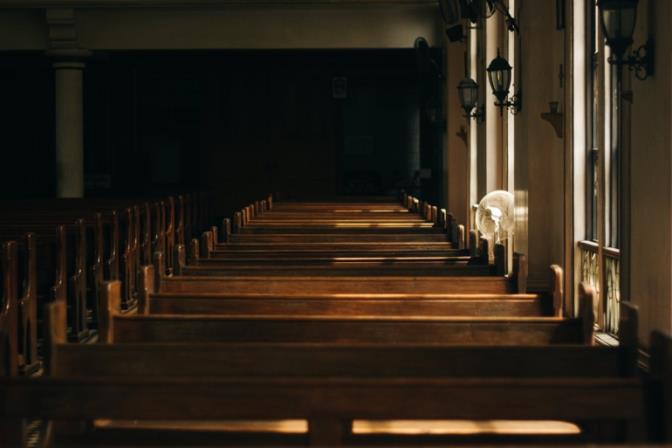 A survey of Eastern Orthodox parishes in the U.S. provides a more micro view of how religious institutions are dealing with the coronavirus pandemic, suggesting more adaptability with online usage, and a less dire future for congregations than found in many forecasts involving church finances. The online survey of Orthodox clergy, conducted by Alexei Krindatch, with 234 responses, and part of the Faith Communities Today (2020) study, found that a majority of respondents said that because of the pandemic, they began live-streaming services or posting them online– a total of 77 percent of parishes currently offer online worship. The majority of respondents perceived their current online attendance to be higher than in-person attendance prior to the pandemic. A smaller percentage (24 percent) indicated that their online attendance is about the same as their in-person attendance prior to the pandemic, while 21 percent noted that it is lower, and 11 percent were unsure or unable to directly compare attendance. Asked about whether these clergy will continue to offer online services after in-person liturgies resume, just under half (46 percent) said they will. Although there is some financial uncertainty over the pandemic, just under half of respondents in an earlier phase of the study (with 87 respondents) indicated they have the sufficient resources to carry them through the summer, while 30 percent noted that there are financial strains and that they might have to make minor budget changes to manage. A smaller percentage said they'll have to make more significant changes to their budgets (12 percent) or funding sources (9 percent).
(The study can be downloaded here: https://faithcommunitiestoday.org/wp-content/uploads/2020/05/CoronavirusUSOrthodoxParishesReport_Phase2.pdf The earlier phase of the study can be downloaded here: https://faithcommunitiestoday.org/wp-content/uploads/2020/04/CoronavirusUSOrthodoxParishes.pdf)